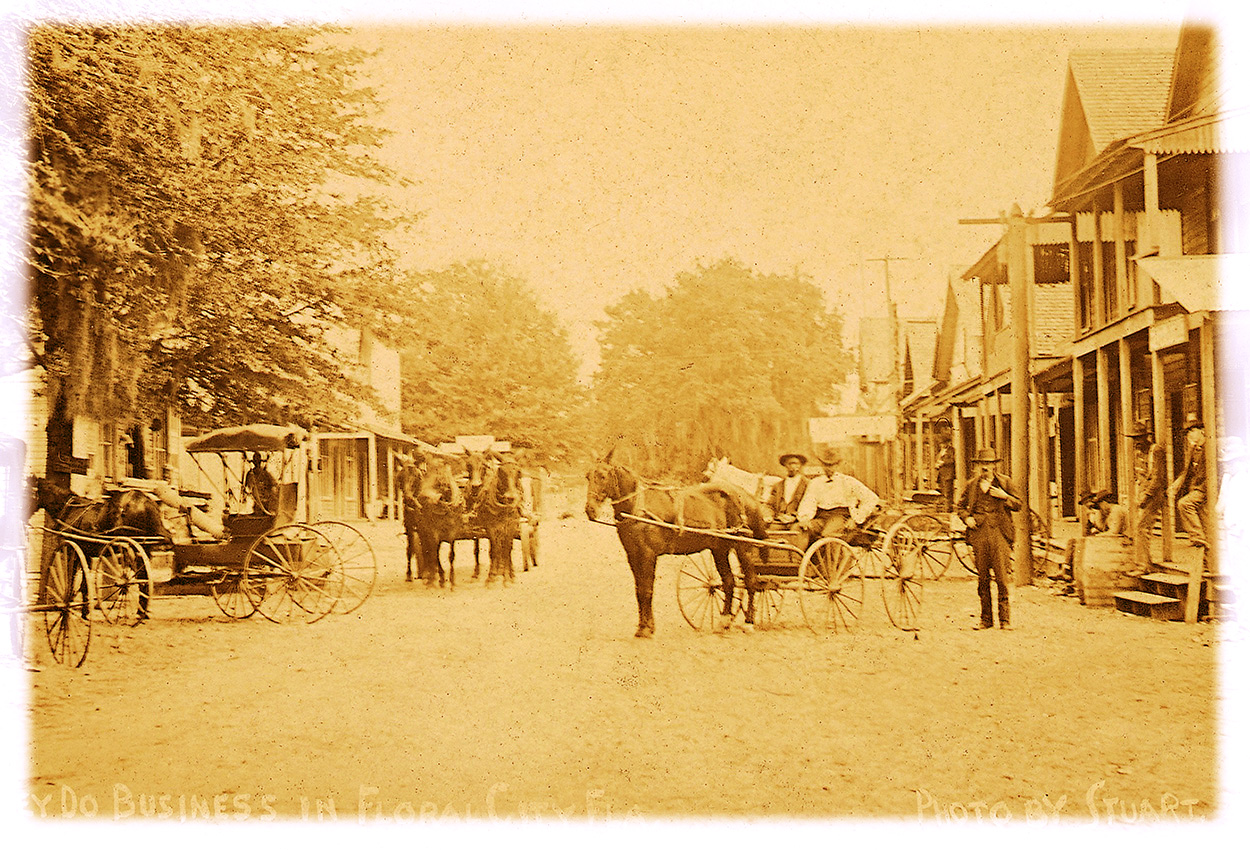 Address correspondence to:
The Floral City Heritage Council
P O Box 328
Floral City, FL 34436
---
Floral City Community
Naturecoaster.com, an FCHC Corporate Member
Floral City Branch Library Calendar of Events
Best Places to Live in Florida
Citrus County Coronavirus Facts
---
8394 E Orange Ave, Floral City Florida 34436
HORSES WITH BELLS jingle down the Avenue of Oaks which will be closed to cars & trucks and lined with candles. Ride the wagons and/or Stroll down the sidewalks to enjoy decorated homes and music from the front porches and yards of our wonderful Floral City residents who live under the canopy. Enjoy meeting folks at Town Center: the Library, the museum, the Duval house. Choose a Lyon's Club fish fry at the Community House or Mount Carmel's famous BBQ & sweet potatoe pie for dinner. Visit with your family & freinds, meet some new people, play some checkers in the park and enjoy the music and our small town atmosphere. We look forward to seeing you here. Mark your calanders please!
Floral City Heritage Council
Floral City Heritage Council General Membership Meeting!
MONDAY, AUGUST 29, 2022, at 7:00 PM
Floral City Community Building
POT LUCK DINNER
---
Pirate Invasion of Floral City Museum!
Grandparent Pirates captured hearts at the Floral City Heritage Museum when they appeared there as part of their family's holiday scavenger hunt!
The Museum is open free of charge to all visitors on Fridays and Saturdays September to May from 10:00 am to 2:00 pm at 8394 E. Orange Ave. in the Floral City Town Center.
www.floralcityhc.org | call (352) 419-4257
---
Visit Floral City:
Alzheimer's Walk: Oct 15 2022
Heritage Event: Friday Dec 2 2022
"Spring into History" March 25, 2023
Discover our parks, boat ramps, bike trail, scenery and great businesses....you will want to vist again.
---
Corporate Members of Floral City Heritage Council
Coping with Dementia is an Organizational Member of Floral City Heritage Council that uses our small-town setting to stimulate nostalgia therapy each year with an Annual Walk under the Historic Oaks.
Naturecoaster.com shows the way to events, activities, and places for visitors and residents in Citrus, Hernando, and Pasco counties. Get to know the newest Organizational Member of Floral City Heritage Council.
---
Mission: The Floral City Heritage Council serves as an advocate for Florida historic preservation and presents and supports Florida folk-life programs. Established in September 1992 as a local branch of the Citrus County Historical Society, we support and promote the Society's mission to preserve and further the knowledge of the history and pre-history of Citrus County, Florida, and nearby areas.
---
---
The information on this site is updated. Please come back often to get acquainted with FCHC and our webspace.
---

Terri Hartman, Web | Jeane DeFelice, Facebook, Twitter, Instagram | Janet Donovan, Publications | Marcia Beasley, Publicity | Paulette Ritchie, Official Records