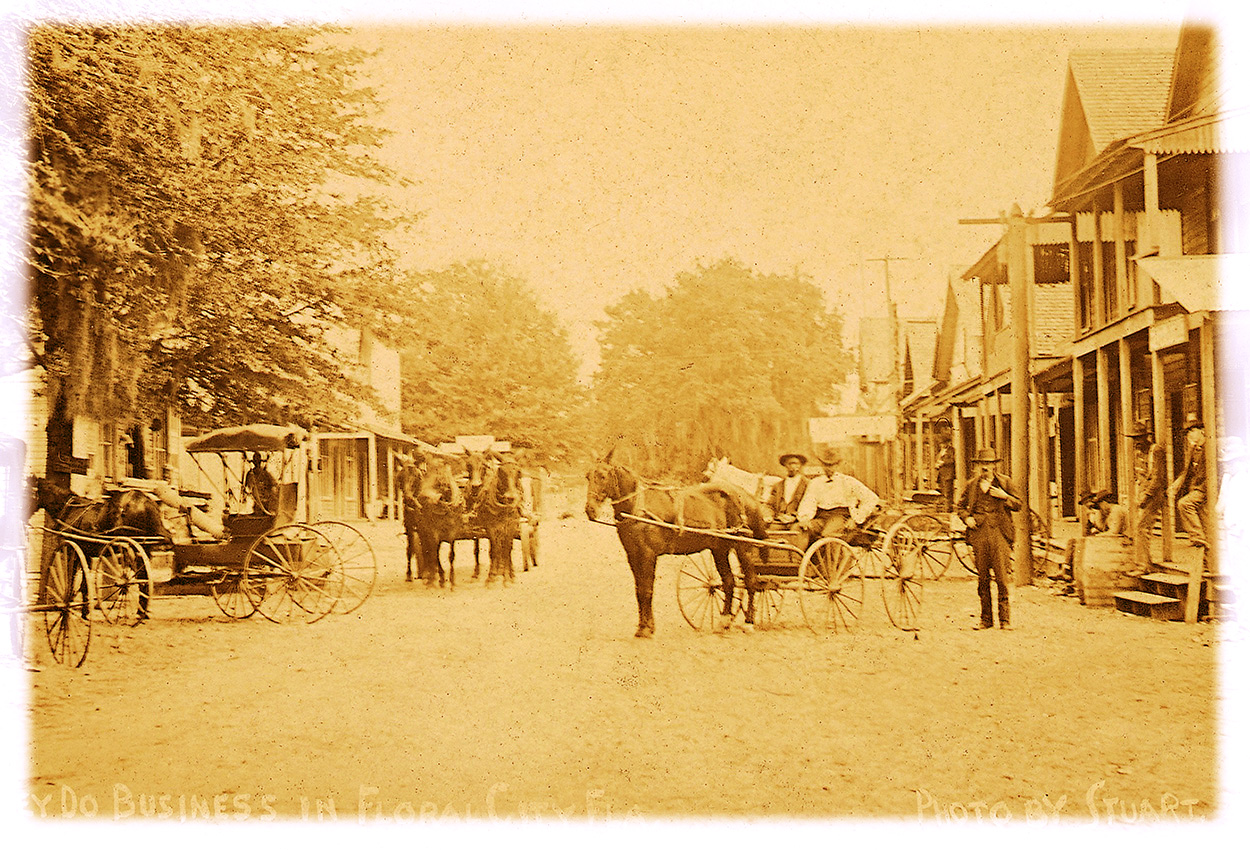 Thursday, December 5, 2019
10 am-12 noon
Final Museum and Duval House Setup for Heritage Days!
Heritage Homeowners: Call 352-586-6904 for assistance!
---
---
Floral City
A Real Old Small Town
---
---

New Historic Sites will open for free tours on Heritage Days
News Along the Avenue of Oaks
Survey of Historic Trees (pdf) (listed on archives page)
Paff Tree Service, LLC : contracted Citrus County Arborist
(link to http://www.pafflandscape.com/trees/)
Planning Strategic Replanting
Next Tree Committee Meeting date
Recently, the arborist treated some Encormic Growth in trees along the Avenue.
Orange Avenue is closed to a single lane of traffic during this work for the safety of the tree professionals.
A scrub palm is growing in this oak tree.

The professional from PAFF Tree Service climbs to remove the Encormic Growth.


The certified Arborist removes Spanish moss from the canopy.
Outstanding Project: Floral City Avenue of the Oaks, Marcia Beasley and Frank Peters

Urban Forestry Award for Outstanding Project
Board of County Commissioners presentation

Marcia Beasley, Bill Matcalfe, and Frank Peters
Presenting award at Volunteer celebraton
Frank Peters and Marcia Beasley have been selected to receive an award as Tree Advocates from the Friends of the Florida Urban Forestry Council.
---
Three Trees Removed from Canopy
Removal of three Historic Trees along Orange Ave. is the result of the 2018 Tree Survey completed in the Fall of 2018 by Paff Tree Service and Citrus County. The survey is a report on the health and integrity of the Historic Tree Canopy and updates the previous survey completed in 2002. A key part of the survey is to identify each individual tree, diagnose the issues associated with the tree, and develop a plan for the preservation of the tree and its contribution to the canopy. After the 2018 Survey, the Paff arborist placed a numbered metal tag on the road side of each canopy tree near the base to identify the tree. Anyone who would like a copy of the Paff Arborist's Survey Report prepared for Citrus County and Floral City Heritage Council is available through the above link.
Of the 107 trees in the Historic Canopy of Trees, three have been designated for removal:
8532 E. Orange Ave (Tree #15)
8860 E. Orange Ave (Tree #48)
Aroostook (South) (Tree #120)

Paff Tree Service, LLC – contracted Citrus County Arborist (http://www.pafflandscape.com/trees/)

I will add more links here to other Historic Tree settings