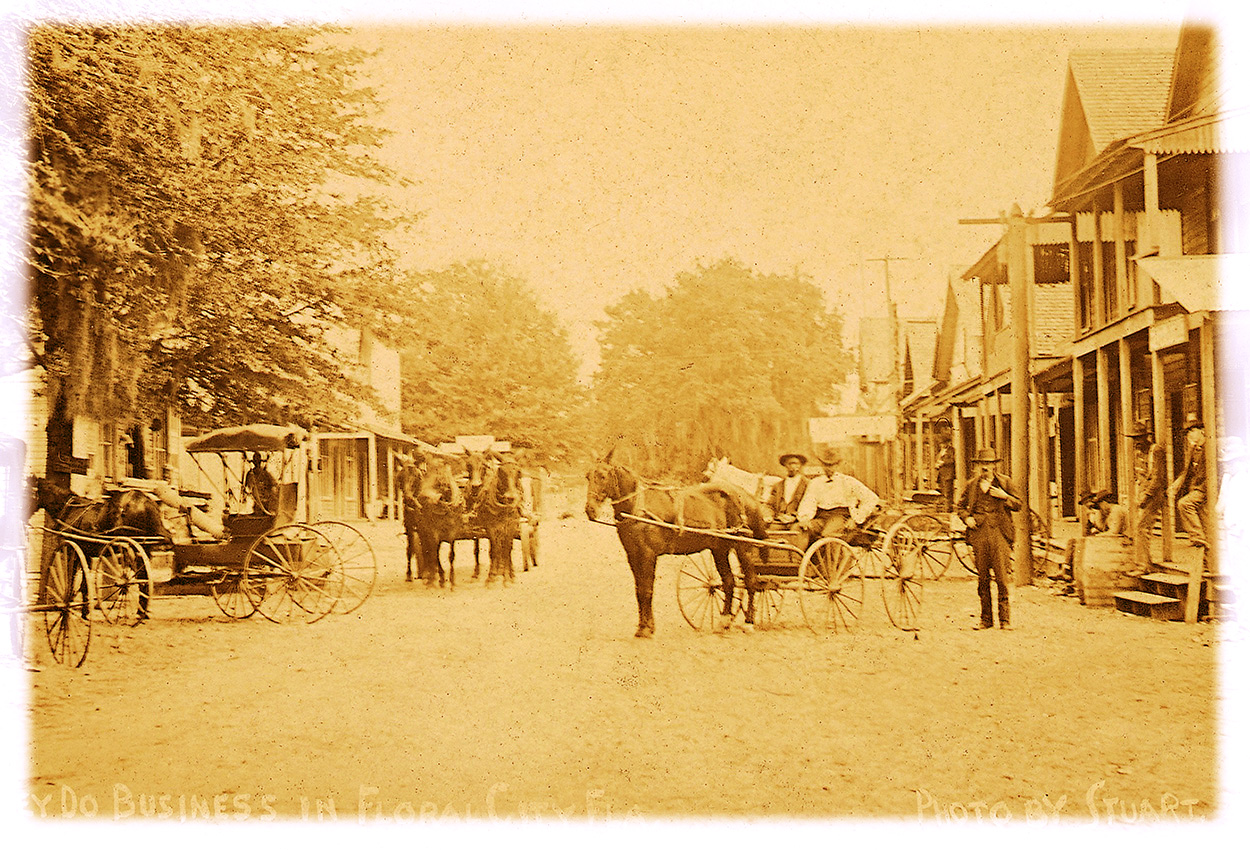 8394 E Orange Ave, Floral City, FL 34436
Open Fridays and Saturdays
10 am - 2 pm
Museum Project Days every Thursday 10 am - Noon
---
---
Real Old Florida
Small Town
---
---
Heritage Days 2020
Friday, December 4, 2020
5:30 - 9 pm
Saturday, December 5, 2020
10 am - 4 pm
News Along the Avenue of Oaks
2019 Survey of Floral City Historic Oaks by Paff Tree Service, LLC, contracted Citrus County Arborist
Floral City Heritage Council Tree Committee
| | | | |
| --- | --- | --- | --- |
| Frank Peters | Marcia Beasley | Winnie Schreiber, Forest Management | Susie Metcalfe, Floral City Garden Club |
| Janet Donovan | Tom Ritchie | Charla Bauer, resident, Historic District | |
| Deb Pedone, Paff | Jim Sterling, Citrus County | Larry Brock, Citrus County | |
Replacement Trees
Several Live Oak Trees (Quercus virginiana) will be planted February 18th and 19th along Orange Ave.
See pictures below of Committee Members selecting the trees for the replanting at Stewart's Tree Service in Brooksville, FL.
Photos of Paff Tree Service, LLC planting the trees:
February 18, 2020

| | |
| --- | --- |
| | |
---
The next Tree Committee Meeting is scheduled for Friday, March 27, 2020, at 9 am in the Heritage Museum.
---
Floral City Heritage Tree Committee will be conducting informal observations and taking notes/pictures of the trees every month with a Monthly Walk of Orange Avenue on the last Monday of each month at 10 am.
Regular visual inspection of the Trees in the Historic District is recommended by Paff Tree Service, LLC in order to avoid extensive damage caused by epicormic growth, disease, infrastructure, and invasive growth.
These walks will assist in the preservation of the historic trees along the avenue. It is the trees that define, or anchor, Floral City's Historic District.
Everyone in the community is invited to participate on these walks. If you are interested in collecting observation data on the trees, please contact us through the website Contact link.
---
In case you missed it: Deb Pedone speaks at the Floral City Garden Club: November 2019 article about Floral City's Historic Trees appeared in the Citrus County Chronicle.
---
Planning Strategic Replantings
Since three trees along the Avenue of Oaks were lost last year, some of the Tree Committee members went shopping for Trees at Stewart's Tree Service in Brooksville. Stewart's Tree Service specializes in Live Oaks like those along Orange Avenue. Deb Pedone from Paff Tree Service, LLC accompanied the committee members to make selections for replanting trees in the Historic District.
Selecting Trees for Replantings
Tree Committee members Frank Peters and Tom Ritchie meeting with Deb Pedone and Stewarts' Tree Service discussing the best trees for planting in the historic district.
Example of an Adult Live Oak Tree such as the ones in the Floral City Historic District
---
November 2019: the arborists treated some encormic growth in trees along the Avenue. Orange Avenue is closed to a single lane of traffic during this work for the safety of the tree professionals.
A scrub palm is growing in this oak tree.
The professional from PAFF Tree Service climbs to remove the epicormic growth.
---
Outstanding Project: Floral City Avenue of the Oaks, Marcia Beasley and Frank Peters

Urban Forestry Award for Outstanding Project
Board of County Commissioners presentation

Marcia Beasley, Bill Matcalfe, and Frank Peters
Presenting award at Volunteer celebraton
Frank Peters and Marcia Beasley have been selected to receive an award as Tree Advocates from the Friends of the Florida Urban Forestry Council.
---
Three Trees Removed from Canopy
Removal of three Historic Trees along Orange Ave. is the result of the 2018 Tree Survey completed in the Fall of 2018 by Paff Tree Service, LLC and Citrus County. The survey is a report on the health and integrity of the Historic Tree Canopy and updates the previous survey completed in 2002. A key part of the survey is to identify each individual tree, diagnose the issues associated with the tree, and develop a plan for the preservation of the tree and its contribution to the canopy. After the 2018 Survey, the Paff arborist placed a numbered metal tag on the road side of each canopy tree near the base to identify the tree. Anyone who would like a copy of the Paff Arborist's Survey Report prepared for Citrus County and Floral City Heritage Council is available through the above link.
Of the 107 trees in the Historic Canopy of Trees, three have been designated for removal:
8532 E. Orange Ave (Tree #15)

8860 E. Orange Ave (Tree #48)

Aroostook (South) (Tree #120)
Paff Tree Service, LLC – contracted Citrus County Arborist