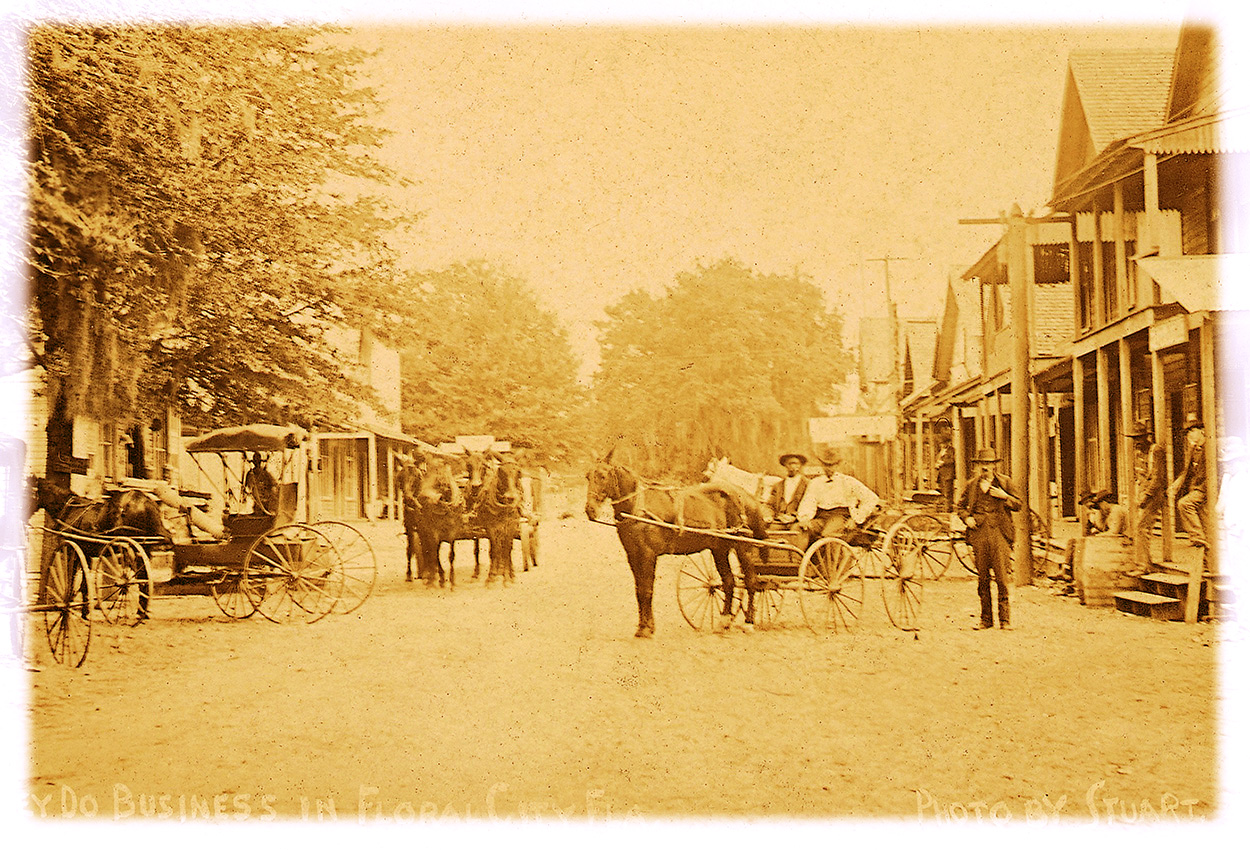 Come walk with us in Floral City Saturday, November 13
Working Together in Floral City
---
Places to eat
Shamrock Inn: prepares take-out; no drive-through; dining room and bar
Pudgee's: prepares take-out; no drive-through; seated dining
Monster Pizza: pickup and no-contact local delivery
Lollygaggers Floral City: dine-in or customer take out
Robin's Country Kitchen: prepares food for take-out; no drive-through; seated indoor and outdoor dining
The Diner: prepares food for take-out; no drive-through; seated dining indoors
---
Women of the Inverness United Methodist Church (IUMC)
participated in an Easter Bonnet program presented by Heritage Council members Sharon Thompson and Marcia Beasley and featuring "costume closet" items from the Heritage Museum.
---
Annual Ice Cream Social
honoring our E-Nini-Hassee friends (February 2019)
---

Floral City Gateway Sign 2020
Artist Ann Covington of Floral City's Artist's Studios is pictured alongside her artwork on the sign visitors pass as they approach Floral City's Avenue of Historic Oaks from the east. Local volunteers plant and maintain the greenery at the gateway sign every week. A special thanks to Ann and all our friends and neighbors!
---

January 28, 2020 Membership Meeting
Floral City Community Building, 50 members and 22 visitors attending
Snippet presented by: Jennifer Clark, her research and remembrances of the history and heritage of Floral City's Black Community
picture from 2019 Luminaria Night in Floral City - Floral City Heritage Council
Floral City Heritage Council Museum Volunteer Training
Operating the Media Viewer

Locating items in the Museum
Summer Library Program in the Museum

Making butter Takes awhile (HD Bassett)

My Name in Hieroglyphics
A Day at the Museum Builds Background Knowledge that helps develop literacy, mathematics, and social skills
Florida Public Archaeology Network (FPAN) partners
Kassie Kemp, FPAN
Links to FPAN documents and Pages (These will be targeted links on the archive page)
Local cemeteries
Floral City Heritage Council partners with Inverness Heritage Council on the care and upkeep of the Dampier Cemetery where Marie Duval is buried.

Floral City has more than 17 cemeteries that have been identified but not yet cataloged.
The Hills of Rest is right on the edge of town.
The Frazier/Williams Cemetery (or the Floral City Community Cemetery) on Great Oaks Blvd is a famous entry in the Black History Trail as the oldest African American Cemetery in Florida.