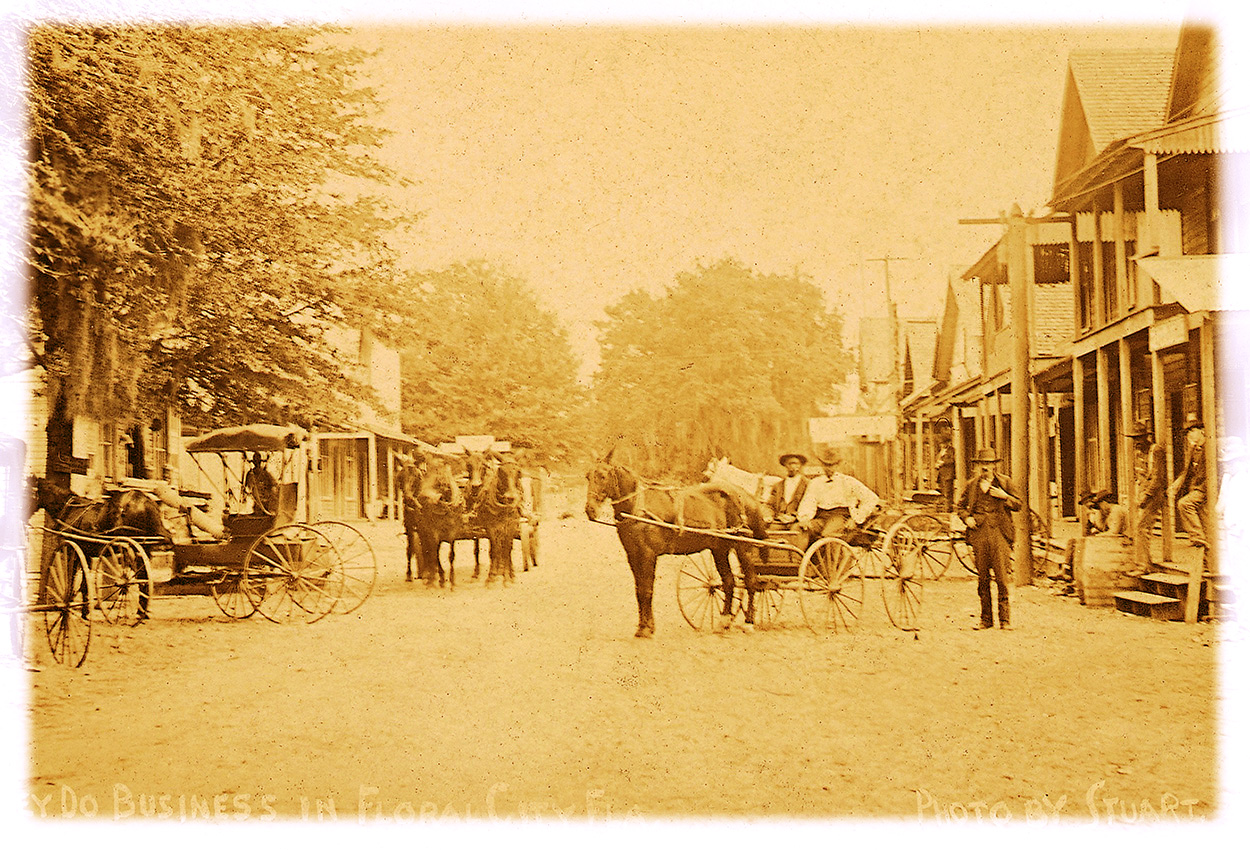 Facebook: www.facebook.com/fcheritagedays/
Twitter: www.twitter.com/HeritagedaysFC
---
Mission: The Floral City Heritage Council serves as an advocate for Florida historic preservation and presents and supports Florida folk-life programs. Established in September 1992 as a local branch of the Citrus County Historical Society, we support and promote the Society's mission to preserve and further the knowledge of the history and pre-history of Citrus County, Florida, and nearby areas.
---
2021 Heritage Days
Friday, December 3, 2021
Saturday, December 4, 2021
---
Come walk with us in Floral City on November 13, 2021
---
Snippet presented October 2019 Membership Meeting
Proud to be a part of Floral City Heritage
---
---
Remembering 2019 Heritage Days
Friday Night of Lights: Carols Along the Avenue
Friday's festivities begin at 5:30 pm and continue until 9 pm.
The Floral City Museum is open to welcome all visitors.
As the sun sets, traffic is stopped and flickering luminaries along the Avenue of Oaks create an atmosphere of days past. Residents and visitors stroll Orange Avenue under the historic oak trees, where lights and shadows created by the the luminary candles dance among the the leaves. Huge branches reach across the Avenue as if to embrace, and friends greet friends as they stroll through the evening. On friendly porches musicians sing gentle carols, and visitors join in. At the old Duval House, the oldest continuous residential home in Citrus County, the wagons and horses are decorated for the holidays and ready to provide a ride down the Avenue. For the first time this year, visitors will be able to select a time for their wagon ride so that they can visit the Museum, have a bite of dinner, or visit a porch sing-a-long.
Friday Night Musical Performances
Ducimers - Cross House
Joe & Kathy Donato - Wagon Stop 5-6 pm
Terri and Dave Hartman - Wagon Stop 6-9 pm
Greg Thomas & Pleasant Hill Heritage Gospel Sing - Museum (Town Center)
Rich and Ritchie - Carter/Lewton House
Some places to get dinner in Floral City:
Floral City Lions Club Fish Fry in the Community Building
---
The Floral City Heritage Days Event is designed to preserve and further knowledge of the history and pre-history of Citrus County, Florida, and nearby areas. (FCHC Policies)
---
Historic Sites Open
The Florida Black Heritage Trail is a guidebook to African American landmarks and legacies throughout the state. Two of those sites are located in Floral City, and are the only sites listed in Citrus County. Both sites will be open to all visitors for guided tours during the 2019 Heritage Days events on Saturday, September 7, 2019.
Pleasant Hill Baptist Church guided tours will be at 11 am Saturday morning and 1 pm Saturday afternoon, but the site will be open to visitors through the day. Heritage Day docents Melissa Thomas and Jennifer Clark will meet visitors at Pleasant Hill Baptist Church, 8200 E. Magnolia St, Floral City, to introduce visitors to the historical significance of that site. Visitors will be introduced to traditional spirituals as they make their way in procession to the cemetery site.

Bubba McKinnon will be the docent at the Floral City Community Cemetery (Frazier/Williams Cemetery) that is listed on the Black Heritage Trail as one of the earliest segregated cemeteries for Black Americans in Florida. He will be telling the stories of some of citizens interred there.
Copies of the newly printed Florida Black Heritage Trail booklet have been made available for visitors to both sites by the Florida Department of State.Please join us to celebrate the opening of these sites for the Annual Heritage Days events.
Saturday Heritage Days Events
Blue Banner Home Tour
Floral City owners of Historic Homes decorate and open their homes. Home tours are provided by costumed docents. Tickets $10.00 for all homes.
* Ticket
8219 E. Orange Ave - Historic Knight House
7838 S. Great Oaks Blvd - Historic Harrison House *
8375 E. Orange Ave - Historic Commercial Hotel *
7801 S. Old Floral City Rd - Historic Duval House *
8481 E. Orange Ave - Historic Griner Gardens
8511 E. Orange Ave - Historic Morris House *
8560 E. Orange Ave - Historic Tooke House *
8580 E. Orange Ave - Historic Love House *
Historic Sites Open (no ticket required)
8155 E.Magnolia Ave - Pleasant Hill Baptist Church - Black Heritage Trail
8004 S. Hwy 41 - Mt Carmel Methodist Church
8372 S.Great Oaks Drive - Frazier/Williams (aka Floral City Community Cemetery) - Black Heritage Trail
8478 E. Marvin St - Floral City United Methodist Church - Century-old sanctuary open for tours
Demonstrators
Dot Lehman - Pine Needle Weaver
Treasures from the Hives - Beekeepers
Laurie McCombee - Spinning
Tom Gallagher - Woodworker
J Shilling - Blacksmith
Tom Ritchie - Cane Mill / Peanut Sheller
Kathleen Barnes - Chair caning
Creative Quilters of Citrus County - Quilting
Richard and Kay Smith - Antique Sewing Machines
Helen Gray - Quilting
Erwin Wunderlich - Heritage Books
Nancy Turner - Tatting
Dee Collier - Storytelling
Bedford Family Wash Day
Petting Zoo - Floral City Team Green 4H
Re-enacters and Organizations
Rodney Miner - Cowboy / Pioneer Encampment
Wil Mclean Foundation
Friends fo Fort Cooper State Park
Nature World Wildlife Rescue
Musicians
10 am - Tom Ellis
11 am - Another Fine Mess
12 noon - Bear & Robert
1 pm - In Good Company
3 pm - 2PM Band
Sound Provided by Tom Ellis
Saturday Food Providers at Demonstrator's Field
Mt. Carmel Church - BBQ Chicken Dinners & Sweet Potato Pie
Maw N' Paw's Kettle Corn
4H Club - BBQ, Hamburgers, Hot dogs and Baked Goods